At the moment it's actually very late here, so it's been a while since I've done my music for the day, but earlier today (actually yesterday, since it's after midnight) I made some decent progress. I finished laying down guitars for a new upcoming song clued True Love. The song is going to be a soft song with a really emotional punkish vocal splitting through. I think you guys will really like it. In the process, I also fully laid out the song structure, and I was happy that it comes in at a safe, friendly 3:40 or so. I also added the bass and sequenced the drums, a surprisingly shorter process than one might expect for a song, since most of the song simply has no bass or drums. However, as is usual with these softer, "simple" songs, I spent a lot of time recording multiple guitar takes, to get things just right. It's with these songs that multiple takes are all the more mind-numbing-- keeping the mood and the sincerity of instrumental while attempting to tap into a sort-of "robotic" precision, all the while stopping and repeating the same seemingly simple part that you can't seem to get right. Ah, the music production woes. Little too much 5k? Agree.

I've got two more songs, a new song in my familiar style (Fall & Return (You'll See)), and another that I'm trying to make into a country rock track (Chasing After You)… And all only need vocals! :O We'll see what happens ;)

​Best!

Powered by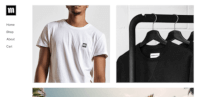 Create your own unique website with customizable templates.